Crisis in the European Monetary Union: A Core-Periphery Perspective
Giuseppe Celi, Andrea Ginzburg, Dario Guarascio, Annamaria Simonazzi
Routledge, 2018
Una delle aree che hanno contraddistinto la produzione scientifica della Facoltà/Dipartimento è l'analisi strutturale e il governo delle diverse economie. Il volume sul quale è organizzato il seminario si colloca in questa tradizione.
Nel volume si discute del futuro della Eurozona in una prospettiva di medio-termine, guardando alle interconnessioni tra le economie, ai fattori strutturali che stanno determinando la crisi della costruzione europea, alle trasformazioni nei paesi "core" e all'emergere di periferie sia nell'Europa del sud, sia all'interno dei paesi più sviluppati e più forti (e, in particolare la Germania). L'analisi proposta, in altre parole, va molto oltre la discussione corrente sulla gestione delle politiche macroeconomiche. Gli autori, in particolare, sostengono che sostenibilità a lungo termine implica che vengano assegnati agli stati un ruolo chiave nel guidare gli investimenti, il che a sua volta implica politiche industriali orientate a diversificare, innovare e rafforzare le strutture economiche dei paesi periferici.
Degli autori, tre hanno con il Dipartimento un legame antico. Giuseppe Celi, ora docente a Foggia, si è laureato a Modena; Annamaria Simonazzi vi ha insegnato per circa un decennio prima di trasferirsi alla Sapienza; Andrea Ginzburg vi ha trascorso la gran parte della sua vita accademica prima di trasferirsi al Dipartimento di Comunicazione ed Economia di Reggio Emilia ove ha concluso la sua carriera. E' stato recentemente proclamato professore emerito.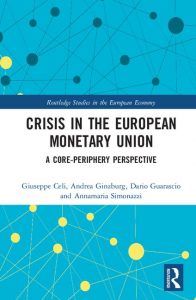 Summary (Routledge)
After decades of economic integration and EU enlargement, the economic geography of Europe has shifted, with new peripheries emerging and the core showing signs of fragmentation. This book examines the paths of the core and peripheral countries, with a focus on their diverse productive capabilities and their interdependence.
Crisis in the European Monetary Union: A Core-Periphery Perspective provides a new framework for analysing the economic crisis that has shaken the Eurozone countries. Its analysis goes beyond the short-term, to study the medium and long-term relations between 'core' countries (particularly Germany)
and Southern European 'peripheral' countries. The authors argue that long-term sustainability means assigning the state a key role in guiding investment, which in turn implies industrial policies geared towards diversifying, innovating and strengthening the economic structures of peripheral countries to
help them thrive.